I have been watching the events of the last two weeks or so in absolute horror. The sight of open Nazis in Ukraine with Nazi insignias on their clothes, waving far right flags used in the war by Nazi collaborators and getting, until recently, uncritical coverage in the BBC and other media outlets, fills me with rage and despair, as an antifascist, as a Jew and as a human being 😦
There is however a real risk of any social anger against Yanukovich and his backers in the Kremlin being written off as being driven by the extreme right, a tactic that Russia has made use of before despite an increasingly intolerant and far-right political climate towards gay people, Muslims and other minorities with the Putin regime's tacit approval. While they have come to be dominated by the extreme right, such as the extreme right wing, antisemitic Svoboda party, one of whose activists established a 'Joseph Goebbels research centre' and the the even further right Pravy Sector, initially at least the makeup of the protests was a lot more mixed and included left-wingers and even anarchists. The character of the protests changed when neo-Nazi activists were able to overpower other groups protesting, by for example smashing up a stall by Ukrainian trade unions in the square. The fact that they were physically more well prepared and well armed put the fascists at the forefront of most of the fighting against the police and government. They were able to set up barricades deciding who came in and out of the protest camps and most of these were dominated by far-right groups. However even now the protests are not fully dominated by Nazis – many homeless people came to the protest camps for example attracted by the free food.
It may seem unusual in the UK but protests with this sort of mixed character are not unusual in Eastern Europe. In 2009 for example, there were protests in Moldova against the Communist Party who at the time controlled the country. These protests eventually forced the removal of the governing party and resulted in a victory for a coalition of 'pro-European' parties, some of whom, but not all, included the extreme right. Russia was quick to allege fascist involvement in the protests, a charge that didn't really stick given the wide range of people involved in them. But there was a grain of truth involved in these claims. The protests split the country with many Russian speakers, rural people and older people being against them and shocked by the disorder. On the other hand fascist groups were involved in the protests as well as ordinary people, leftists and 'liberal' pro EU nationalists such as the 'Hyde Park' group (portrayed in western media as a liberal, pro-European integration group, but when I took their leaflet on a demonstration I walked past while I was living there, I discovered it was racist).
Although I do have some time for some of the activists in this group and others of a similar political nature, the insipid pro-EU liberalism of these organisations as a whole, and uncritical attitude towards anything which opposes Russia, leaves much to be desired – their politics don't tend to go further beyond the idea that "we should join the EU and all be nicer to each other", and with the implied idea being that EU integration, likely to be opposed by Russians, is itself a good idea in itself, that it will automatically make the country more prosperous etc – and that the only "problem" is Russia. Thus in these social movements and organisations you get liberals, pro-EU "economic liberals" and free-market types alongside social democrats and leftists who think that joining the EU will lead to a more "european style" democracy and standard of living – and fascists, who will have very different motivations for wanting closer ties to the West from the above, but the vagueness and apolitical liberal nature of the above means it's easy for them to support it or to be supportive. When there I came across a few people who supported government austerity plans and supported the EU because they imagined that they would largely impact old Russian people who were "communists" – these plans were popularised on this basis, too.
Groups like Hyde Park are often in favour of human rights and campaign for very reasonable things, but they also campaign against things like "the russification of the national curriculum". Being pro-western and pro-EU usually implicitly means the increased use of the national language – and the marginalisation of the Russian language. It is doubtful whether many of these groups would organise protests against for example, Romanian and Ukrainian nationalists in the same way.
In addition, irredentist nationalist slogans such as 'Basarabia pamant Romanesc' (Bessarabia is Romanian land) were common during these protests, some people (not all of them far-right) thinking that closer integration to the EU would be a way to reunite with Romania, something which is by no means only supported by the extreme right but is promoted by them as the answer to the country's problems – an answer that by implication excludes Russians. A closer look at the groups promoting this ideology reveals racism against Russians and Jews as well as extreme homophobia. I once looked out of the window on the way to work and saw protesters with Romanian flags, 'Basarabia pamant Romanesc' and the Celtic cross on a black background leaving you in no doubt as to where they were politically.
Here's a video of Moldovan fascists marching to be part of Romania.
When I was there the new Moldovan government introduced an austerity programme which included, for example, ending free bus travel for pensioners. Surprisingly this received a bit of public support from some people I met who initially at least saw these policies as targeted at old Russians and Communist Party supporters. One of these people also told me that "our language is very dirty, with a lot of Russian words". On my way to work I used to walk past a headquarters of a religious group with an icon of Jesus and Mary facing the traffic – facing inward was a billboard alleging a conspiracy between Jews and the leaders of the Russian Orthodox Church complete with "photo evidence", a surprising theory given that this church has been caught selling copies of the Protocols and other extreme-right literature in Russia.
That said most people I met there who had been involved in the protests or were at least supportive of them were definitely not fascist, but were very dissatisfied by the inequality presided over by the Communist Party and also, frequently, actual and perceived discrimination in favour of the Russian minority. They were in the majority of cases motivated by real and justified anger at the government, and in the moldovan case fash were in a definite minority. The protesters occupied government buildings and struck at the power of the state. You have to remember that the left in these places is practically non existent and where it does exist the organized left isn't worthy of the name, being bag carriers for the Kremlin and presiding over neoliberal policies and corruption, promoting Russian nationalism and trading on Soviet nostalgia, but with something far nastier frequently lurking underneath – the former communist president of Moldova describing a black opposition activist as 'a negro who came down from a tree' . The lack of a left that is not nostalgic for the soviet union and with it, Russian rule over the 'backward' eastern european countries, itself a key idea in Russian imperialist nationalism has been one of the contributory factors that has opened the gateway for the extreme right.
The fact that Russian far-righters have been involved on the opposite side to the Maidan protesters, and, ludicrously, that the police have reputedly been told that the protesters are led by Jews despite clear evidence of fascist involvement, demonstrates that the idea that Yanukovich's regime and the Kremlin are motivated by antifascism is hard to swallow, as is Putin's claim that he is against corruption and imperialism when the regime is perfectly happy to tolerate their own oligarchs and use Russian military bases in former soviet countries as a way to control them.
With that in mind however, it is clear that the far right have played a huge part in the Ukrainian protests, bigger than their part in Moldova or even for that matter in the Orange Revolution in 2007, where groups such as UNA-UNSO, a paramilitary organization which was one of the forerunners of Svoboda, played a role in the demonstrations, and several figures in Viktor Yushchenko's party had links to them. By unbreaking the link above BTW you can see an odd article combining a call for Ukraine to join the EU with antisemitic statements about 'Jewish lords'. It is estimated that around 30% of protesters are involved in far-right groups such as Svoboda and Pravy Sector and many more will sympathise with them, especially because these neo-Nazis have been doing the bulk of the fighting with the government. Even more concerning is the fact it looks likely that Svoboda may enter a coalition in the new government. This used to be their old logo by the way:
If Russia's conduct has been grotesque as they try to portray themselves as a bulwark against fascism it has been equally sickening to see the UK government portray these events as entirely peaceful protesters while Nazi symbols have been on display and protesters have been photographed with weapons, wearing helmets and shields with far-right leaders screaming about how they want to kill their enemies. The images of lynch mobs and 'government supporters' forced to pray at shrines for dead protesters (when they say government supporters what does that mean, officials or just some poor random Russian?) And the reports that Nazi propaganda has now been legalized are extremely disturbing – whether or not we should have such a law it's a strange priority for a new government. The images of these "friendly protesters" daubing Celtic crosses and SS symbols on areas they occupied should worry anyone.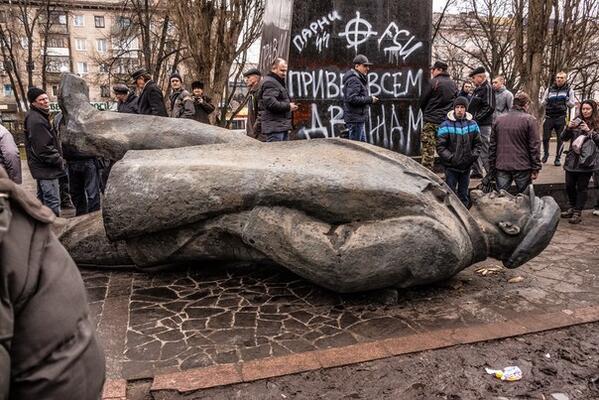 The more disturbing part of this is the entirely uncritical attitude of the EU and the American government, describing the protesters as being 'peaceful' even when they are photographed with fascist insignia and weapons. It is, to pit it mildly, very unlikely that Ukraine will become a Nazi dictatorship to say the least. One of the candidates for the new president, Klitschko, looks like an apolitical figurehead brought in on the basis of his popularity elsewhere, and he is far from being universally popular with the protesters at Maidan, especially not the organized far right. Like most of the high profile politicians there such as Yulia Timoshenko, the corrupt 'gas princess' feted by the west and seemingly transformed into some sort of Aung Sung Suu Kyi figure, Klitschko has had his own rumours of corruption such as a doping scandal.
It may even be that Yanukovich's old party get back in at the next elections. We don't know, all sorts of scenarios could play themselves out. However the deeply concerning thing for now is the possibility of further ethnic violence in both Ukrainian and Russian areas – already there are reports of Crimeans in Sevastopol holding 'antifascist' rallies to 'defend Russia'. In the early 1990s the leaders of the pro-Russian separatist breakaway state of Pridnestrovie (Transnistria) used pro-Romanian and anti-Russian sentiments by Moldovan nationalist leaders such as the slogan "Suitcase – train station – Russia", to justify breaking away from Moldova. The fears people had of the possible consequences of Moldovan independence were very real given that during the 1940s the Nazis had turned the area into a giant death camp.
And in addition the very real likelihood of attacks on, for example, Jews – in the last few months several antisemitic attacks have taken place and there are reports of Jews being threatened and told to get out of the country – as well as Crimean Tartars who often traditionally identify with Ukraine in an area that is majority Russian and who are discriminated against and tend to have a far higher poverty and unemployment rate than the rest of the population as it is, having been deported by Stalin and only allowed to start returning at the end of the 1970s.
The wider implications of the protests and what they mean for the far-right will be felt for a long time to come. While it is very unlikely that the far right will emerge completely victorious and the leaders of a new Ukrainian Reich, as some of the more hysterical commentary from pro Russian sources has seemed to imply, this is a huge victory for the far right and they are extremely strengthened by it, they have grown in confidence and gained a fair amount of experience and some public support, despite the fact that the majority of Ukrainians have not participated in the protests and nowhere near the numbers of, for example, Egyptians who did. The repercussions of this will be felt for a long time to come. At the level below the top echelons of the state institutions like MAUP, the Ukrainian university which had ex KKK leader David Duke to speak and routinely gives 'lectures' attacking Jews, will feel more confident in propagating their views now they know they can do so with impunity.
Some further thoughts.
It is difficult for leftists to argue in these countries that there was anything good about for example Lenin and Trotsky when many Eastern Europeans experienced even Lenin's rule as a brutal occupation and following his death the cult of Lenin became inextricably linked with the Soviet state and Russian rule. The whole concept and vocabulary surrounding 'communism' has for a lot of people become linked to ethnicity (although austerity measures, rising inequality and attacks on already shit pay and conditions affect everyone regardless of ethnicity) therefore especially here, taking all your views from these 'dead Russians' is unlikely to be helpful, one reason perhaps why Trotskyism never took off there).
There is a worrying tendency in many eastern European countries for some people within the state to take advantage of the bitterness that people feel about the Soviet occupation and communist rule and use this to argue that the Nazi occupation was as bad, or less bad than what happened under communism. Ironically these trends started to develop in some countries under communism itself with Ceausescu arguing before his death that Antonescu, the fascist leader during the war, had in fact been a national hero. Likewise in Ukraine, the Holodomor (the famine in the 1930s which killed millions of people) has become a cornerstone of the far-right, who have used popular anger about the suppression of information about this issue and the lack of recognition about it, especially in Russia, as a way to promote nationalist conspiracy theories and far-right ideology.
In Hungary, much of the Jewish community have boycotted the official commemorations of the holocaust because they whitewash Hungary's involvement in the war and refuse to admit that the government did anything wrong. A similar trend has emerged in Lithuania, where the EU has actively assisted in propagating this agenda, and where leading politicians have described Nazi sympathizers during the war as heroes and partisans and anti-Nazi fighters as criminals. And the EU are somehow absolutely fine with this state of affairs just as they are with the 'peaceful protesters' in Ukraine.
Watching this from over here makes me feel so powerless. Not really much else I can say. And yeah I know I don't have links to back up everything I've said here but it's late, work in the morning and I'll put them in tomorrow or over the next few days. Comments, criticisms etc always welcome.